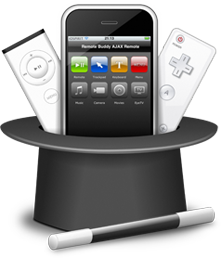 The most powerful remote control solution for the Mac®. Control more than 100 applications, virtual keyboard and mouse, presentations, media center software and important system settings right from your iPhone™, iPod® Touch, your Apple® Remote or one of the many other remote controls supported by Remote Buddy!
About Behaviours
Behaviours link Remote Buddy with its environment. They are the links that allow Remote Buddy to control other applications and perform special actions.
Integrated Online Updater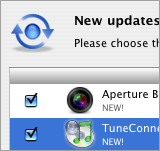 The integrated software update feature not only keep Remote Buddy and already installed Behaviours up-to-date. It also can download brand new Behaviours that match the software installed on your Mac. That way, you automatically benefit from the latest developments without spending any time on manually searching, downloading, unarchiving, copying and deleting.
Available Behaviours
The tables below provides an overview over the currently available behaviours.
Applications
| Behaviour | Functionality |
| --- | --- |
| Accessibility | Zoom in/out, invert screen colors, control screen contrast, navigate menu bar and Dock. Not available under OS X® Lion. |
| Acrobat® Pro | Go to first/last/previous/next page, zoom +/-/fit, rotate, full screen on/off |
| Adobe® Bridge CS2/CS3/CS4/CS5 | Start slideshow, Exit from slideshow, Previous/next slide, Play/Pause |
| Adobe® Media Player | Play/Pause, Volume, Fullscreen on/off, control via virtual mouse |
| Adobe® Reader® | Go to first/last/previous/next page, zoom +/-/fit, rotate, full screen on/off |
| AirFoil | Play/Pause, Volume +/-, Select source, Previous/next speaker. Many thanks to Rogue Amoeba! |
| AlchemyTV DVR | Channel +/-, Last channel, Jump backward/forward/to the start/end, Next input, Volume +/-, Mute, Play/Pause, Record on/off, Snapshot, Original/half/quarter/double size |
| AOL® Radio | Volume +/-, Preset 1-5, Play / Pause, Stop, Login/Logout, Mute |
| Aperture™ | Start / Play / Pause / End slide show, next / previous slide. |
| Audio Hijack | Previous/next session, start/stop hijacking, start/stop recording, mute on/off |
| Audio Hijack Pro | Previous/next session, start/stop hijacking, start/stop recording, mute on/off |
| Aurora | Control alarms, Stop alarm, Start snooze, Stop snooze, Start fall asleep, Stop fall asleep |
| Awaken | Previous/Next track, Start sleeptimer, Stop alarm / timer, Cancel alarm, snooze |
| Books | Previous/Next list, Previous/Next book, Toggle info window |
| Boxee | Navigation: Select, Navigation: Right, Navigation: Left, Navigation: Up, Navigation: Down, Navigation: Context Menu, Navigation: Previous Menu, Up, Down, Left, Right, Select, Previous Menu, Playback in back-/foreground, Toggle fullscreen, Context Menu, Home, Increase volume, Decrease volume, Mute, Info, Play, Pause, Stop, Fast forward, Rewind, Skip forward, Skip backward, Small step backward, Step backward, Step forward, Big step back, Big step forward, Cycle aspect ratio, Show/hide subtitles, Next subtitle, Show playback time, Show current playlist, Queue selected item, Move item up, Move item down, Increase rating, Decrease rating, Page Up, Page Down, Scroll Up, Scroll Down, Numpad 0, Numpad 1, Numpad 2, Numpad 3, Numpad 4, Numpad 5, Numpad 6, Numpad 7, Numpad 8, Numpad 9, *, #, Clear, Quit Boxee |
| ComicBookLover | Left/First page, Right/Last page, Up/Previous page, Down/Next page, View selected comic/Overview, Overview, Single page view, Western page view, Manga page view, Actual size, Fit into window, Fit page width to window, Zoom in, Zoom out, Toggle fullscreen, Rotate left, Rotate right, Toggle thumbnail drawer, Next page, Previous page, First page, Last page, Next comic, Previous comic |
| Camino® | Previous/next page, previous/next tab, page up/down, increase/decrease font size, close window/tab |
| Capture One® (Pro) 5 | Bild aufnehmen (nur mit Capture One® Pro 5), Vorheriges/Nächstes Bild, Bild links/rechts drehen |
| Chroma | Play/Pause, Rewind, Fast forward, Jump backward/forward, Jump back 10 minutes, Jump forward 10 minutes, Toggle fullscreen, Toggle overlay, Toggle picture controls, Actual size, Double size, Fit to screen, Toggle controller, Stabilize window, Toggle looping, Toggle looping back and forth |
| Coverflow™ | Next album, previous album, select album, toggle fullscreen, bring to front, toggle auto tracking, jump to current album, next track, previous track |
| Delicious Library | Navigation through the collection, toggling presented info |
| Democracy Player | Play / Pause, stop, next/previous Video, fullscreen on/off |
| DivX Player | Actual/double/maximum size, fullscreen on/off, desktop background mode, play/pause, volume +/-, rewind, fast forward, frame forward/backward, quarter/half/double/normal speed |
| DVDpedia | Toggle view, full screen mode, navigation through collection |
| DVD Player | Control volume, play/pause, navigate in menus, fast forward, rewind, previous/next chapter, go to main menu |
| Expression Media | Start/Stop slideshow, Play/Pause slideshow, Previous/Next slide, Increase/Decrease rating |
| Exposé® | Current app windows, all windows, move focus left/right/up/down, Dashboard on/off. Not available under OS X® Lion. |
| EyeTV 2 & 3 | Select recordings and TV stations, control volume, play/pause, fast forward, rewind, toggle full screen mode, seamless integration with the full screen menu introduced with EyeTV 2.3. |
| FireAnt | Play, Play new episodes, next/previous video, toggle fullscreen |
| FlexTime | Previous/next activity, reset routine, start / pause frontmost activity, select routine |
| Flock | Tab-/page-/window-navigation, font size, scrolling |
| Firefox® | Previous/next page, previous/next tab, page up/down, increase/decrease font size, close window/tab |
| Freak Show | Previous/Next category, Previous/Next effect, Take picture, Toggle backlight, Toggle fullscreen, Start/Stop recording |
| Front Row | Seamless switching between Front Row and Remote Buddy. Additional Quick Exit feature to quickly leave the menus structure of Front Row. Starting with OS X® Lion, Front Row is no longer part of the OS. It is therefore no longer supported by Remote Buddy under OS X® Lion 10.7 and later. |
| GarageBand™ (up to version 6) | Start recording with countdown, jump to start, jump to end, start/stop recording, rewind, forward, play/pause |
| GarageBand™ (version 10) | Play/Pause, start recording, jump to start |
| Google™ Earth | Navigation, zoom, selection of locations. Notice: Google seems to have removed the AppleScript support from Google Earth version 5 (bugreport). Whether the removal of AppleScript support by Google is accidental or not is unclear at that point. Since AppleScript support is needed in order to control Google Earth, you can currently only control Google Earth version 4 with Remote Buddy. |
| Google™ Chrome | Increase font size, Decrease font size, Open link, Next link, Previous link, Page down, Page up, Next tab, Previous tab, Close tab/window, Previous page, Next page, Reload page, Toggle fullscreen |
| Google™ Video Player | Play/Pause, jump to beginning/end, rewind, fast forward, jump to beginning / end, toggle fullscreen, increase/decrease volume, mute on/off |
| GraphicConverter v5.9.1+ | Zoom in/out, Play/Pause, Step forward/backward, Quit or start/continue slideshow. |
| Hulu Desktop | Toggle fullscreen, Navigation. |
| iBooks | Previous/Next page, previous/next chapter, toggle miniatures, toggle fullscreen, original size, increase/decrease size, exit video |
| iCab | Tab-/page-/window-navigation, font size, scrolling |
| iCal | Switch to day-/week-/month-view, Previous, Next, Go to today, Navigation |
| iPhoto™ | Start/stop/pause/resume slideshow, jump to next/previous slide, select album. |
| iTunes® | Control volume, play/pause, rewind, fast forward, bring iTunes® to front, navigate active playlist, speak currently playing title, display information on the currently played track (including any existing cover art), rate songs (via the menu or directly), Music Library browser, select one or more AirPlay™ speakers for iTunes® playback. |
| iTuneSleep | Fade in 10/20/30/40 minutes, Alarm in 6/6.5/7/7.5/8 hours, Snooze for 5/10/20/30 minutes, Cancel fade, Cancel alarm, Cancel fade & stop playback. Created by Sascha Tr. |
| iView Media Pro | Start/Stop slideshow, Play/Pause slideshow, Show/hide controller, Increase/Decrease rating |
| Jaman Player | The application can be controlled in the same way as it supports control via the Apple® Remote itself. NOTE (May 31st, 2009): As the Jaman Player currently doesn't appear to offer sufficient control via keyboard and currently doesn't react to Apple® Remote events in full screen mode, either, it can currently only be controlled when in window mode. |
| Keynote® 3, 4 (from iWork® '08), 5 (from iWork® '09), 6 (Mac App Store 2013) | Control the slide switcher, play/pause, jump to previous/next slide |
| Krix | Left, Right, Up, Down, Select, Level up, Increase/Decrease album size, Play/Pause, Previous/Next song, Volume up/down, Reload, Toggle fullscreen |
| Last.fm | Skip/ban/love song, Volume +/-/mute, Play/Stop |
| Lightroom™ 1/2/3/4/5 | Start slideshow, Play/Pause slideshow, previous/next slide, exit slideshow |
| Mac Blu-Ray Player | Play/Pause, Stop, Fast Forward, Rewind, Previous, Next, Increase/Decrease volume, Mute, Eject, Toggle fullscreen, Menu navigation |
| Matinée | Previous/Next DVD, Mix, Play selection, Rip, Show DVD Controller on/off, Play in full screen on/off |
| Media Central 2 | Seamless integration of this media center software from equinux. Additional Quick Exit Feature to quickly leave its menu structure. |
| Mezzanine | Scroll left/right, Rewind/fast forward, play/pause, Mezzanine menu, Volume +/- |
| Miro | Play / Pause, stop, next/previous Video, fullscreen on/off |
| Movist | Play / Pause, Rewind/Fast forward, volume +/-, mute, full screen |
| Movie Time | Play / Pause, Rewind/Fast forward, Jump to beginning/end/forward/backward, Previous/next clip, controller on/off, cycle subtitles, cycle status, toggle repeat, volume +/-, maximum/minimum volume, mute, half/normal/double size, full screen |
| MPlayer OSX | Play/Pause, rewind, fast forward, toggle fullscreen, bring to front |
| MPlayer OSX Extended | Play/Pause, Stop, Rewind, Fast forward, Toggle fullscreen, Increase/Decrease volume, Mute, Skip to next/previous, Previous, Next, Half/Normal/Double size, Screenshot |
| MPlayer X | Play/Pause, Rewind/Jump backward, Fast forward/Jump backward, Previous chapter, Next chapter, Increase volume, Decrease volume, Toggle fullscreen |
| MultiAlarm | Arm, Disarm, Lock screen, Disarm and show virtual keyboard |
| NeoOffice® Impress | Start/stop/navigate presentation, both in Writer and Impress |
| NetNewsWire | Cycle through sections, scroll up/down, select, close tab/window, bring to front, next unread, zomm in/out |
| NetNewsWire Lite | Cycle through sections, scroll up/down, select, close tab/window, bring to front, next unread, zomm in/out |
| netTunes | Next track, previous track, play / pause, increase/descrease volume, fast forward, rewind, show/hide player window, show/hide server list. Excellent rewrite by Steve Luscher. |
| NewsLife | Previous/Next article, Add to news bin, Open link, Speak article, Refresh selected feed, Refresh all feeds, Mark selected feed as read, Mark all feeds as read |
| NicePlayer | Volume +/-, Play/Pause, Toggle fullscreen, Mute, Rewind/Fast forward, Previous/Next movie, Center window, Play, Pause, Show/hide playlist |
| OmniOutliner | Unfold, collapse rows, change status, navigate |
| OmniWeb | Increase/decrease font size, open link, open link in new tab, next/previous link, previous/next page, previous/next tab, page up/down, cycle windows |
| Opera™ | Increase/decrease font size, previous/next page, page up/down, cycle windows, reload |
| OpenOffice.org Impress | Start slideshow, Exit slideshow, Previous slide, Next slide, Switch from/to black |
| PandoraBoy | Play/Pause, Next track, Next track with track info, display track info, thumbs up, thumbs down, raise volume, lower volume, full volume, mute |
| PandoraMan | Like song, dislike song, Play/Pause, Refresh, Skip Song |
| PhotoBooth | Shoot images, switch between effects |
| PhotoPresenter | Start/stop slideshow, next/previous slide, increase/decrease display duration, toggle music on/off, toggle kiosk mode on/off, toggle hidden window mode on/off, toggle slide tiles on/off, toggle dimming other screen on/off, toggle dimming background on/off, toggle shuffle slides modes on/off |
| Plex (former OSXBMC) | Navigation: Select, Navigation: Select (hold), Navigation: Right, Navigation: Right (hold), Navigation: Left, Navigation: Left (hold), Navigation: Up, Navigation: Down, Navigation: Menu, Navigation: Menu (hold), Up, Down, Left, Right, Select, Previous Menu, Minimize video, Toggle fullscreen, Context Menu, Home, Go to 'Music', Go to 'Pictures', Go to 'Videos', Go to 'System Info', Go to 'Weather', Display OSD, Increase volume, Decrease volume, Mute, Info, Play, Pause, Stop, Fast forward, Rewind, Skip forward, Skip backward, Small step backward, Step backward, Step forward, Big step back, Big step forward, Cycle aspect ratio, Show/hide subtitles, Next subtitle, Next audio track, Show playback time, Show current playlist, Queue selected item, Move item up, Move item down, Increase rating, Decrease rating, Page Up, Page Down, Scroll Up, Scroll Down, Numpad 0, Numpad 1, Numpad 2, Numpad 3, Numpad 4, Numpad 5, Numpad 6, Numpad 7, Numpad 8, Numpad 9, *, #, Clear, Quit Plex |
| PowerPoint v.X / 2004 / 2008 / 2011 | Start/stop presentation, go to next/previous/first/last slide, black screen, mousespot presentation aid and more actions (depending on PowerPoint version) |
| Preview | Zoom in/out, size to fit, previous page, next page, rotate left, rotate right, play / pause, full screen on/off |
| QuickTime® Player | Control volume, play/pause, rewind, fast forward, frame forward/backward, toggle full screen mode. Additionally, in QuickTime® Player X (Snow Leopard): create and control audio-, video- and screen-recordings |
| QVIVO Player | Up, Down, Left, Right, Select, Menu, Toggle fullscreen |
| Rdio | Play/Pause, Play, Pause, Previous/Next track, Volume +/-, Toggle mini mode |
| RealPlayer | Control volume, play/pause, rewind, fast forward, toggle full screen mode |
| Roxio Video Player | Play / Pause, Volume, fast forward, rewind, jump forward/backward, toggle fullscreen |
| Safari™ | Increase/decrease font size, open link, next/previous link, previous/next page, previous/next tab, page up/down, reload. Created by Jim Hoyt. |
| Shiira | Increase/decrease font size, previous/next page, previous/next tab, page up/down, cycle windows, reload |
| Sidplay | Next/Previous song, Next/Previous subsong, Play/Pause, Random tune, Add to/Remove from Favorites |
| Skim | Toggle fullscreen, Zoom in, Zoom out, Next page, Previous page, Scroll down, Scroll up, Zoom to fit |
| Snapz Pro X | Take screenshot |
| Soundcloud | Volume +/, Previous/Next track, Play/Pause |
| Spaces | Choose space, Space left/right/up/down. Not available under OS X® Lion and later. |
| Spotify | Play/Pause, Previous/Next Track, Increase/Decrease volume, Mute |
| StarOffice™ Impress | Start slideshow, Exit slideshow, Previous slide, Next slide, Switch from/to black |
| Stapler | Unfold / collapse, navigation |
| Toast Video Player | Play / Pause, Volume, fast forward, rewind, jump forward/backward, toggle fullscreen |
| TuneConnect | Play / Pause, play new track, next / previous track, volume up / down, change rating (none,1,2,3,4,5) |
| Transmission | Toggle speed limit, Pause all, Resume all, Toggle info, Pause selected, Resume selected, Previous/Next inspector tab |
| Unison | Left, Right, Up, Down, Select, Previous/Next UI element, Cycle windows, Mark as unread, Close window, Show transfers, Show groups, Mark thread as read, Get latest posts in group, Jump to list |
| Vidi | Channel +/-, toggle fullscreen, record, volume +/-, switch to radio/video |
| Vienna | Refresh all subscriptions, Increase/Decrease text size, Next unread, Refresh current feed, Mark all read, Mark unread, Flag/Unflag, Previous/Next folder, Previous/Next article |
| Virtue | Previous / next desktop, choose desktop |
| VoodooPad | Back, Forward, Toggle fullscreen mode, Go to home page, Next/Previous tab, Zoom in/out |
| VoodooPad Pro | Back, Forward, Toggle fullscreen mode, Go to home page, Next/Previous tab, Zoom in/out |
| VLC media player | Play/pause, navigate the playlist |
| XBMC | Navigation: Select, Navigation: Right, Navigation: Left, Navigation: Up, Navigation: Down, Navigation: Context Menu, Navigation: Previous Menu, Up, Down, Left, Right, Select, Previous Menu, Playback in back-/foreground, Toggle fullscreen, Context Menu, Home, Go to 'Music', Go to 'Pictures', Go to 'Videos', Go to 'System Info', Go to 'Weather', Display OSD, Increase volume, Decrease volume, Mute, Info, Play, Pause, Stop, Fast forward, Rewind, Skip forward, Skip backward, Small step backward, Step backward, Step forward, Big step back, Big step forward, Cycle aspect ratio, Show/hide subtitles, Next subtitle, Next audio track, Show playback time, Show current playlist, Queue selected item, Move item up, Move item down, Increase rating, Decrease rating, Page Up, Page Down, Scroll Up, Scroll Down, Numpad 0, Numpad 1, Numpad 2, Numpad 3, Numpad 4, Numpad 5, Numpad 6, Numpad 7, Numpad 8, Numpad 9, *, #, Clear, Quit XBMC |
| Xee 2 | Previous / next image, zoom in/out, actual size, fit to screen, first/last image, toggle fullscreen, next/previous image, rotate counterclockwise, rotate clockwise, rotate automatically, actual rotation |
| Yojimbo | Open bookmarked URL |
Games
| Behaviour | Functionality |
| --- | --- |
| Frozen Bubble | Game control for one or two players |
| GLtron | Game control for one or two players |
| Quinn | Play/Pause, left/right/up/down, cancel, bring to front |
| Ziggy The Worm | Game control for one or two players |
System tools
| Behaviour | Functionality |
| --- | --- |
| Application manager | Bring any running application to front, quit or force quit it. |
| Audio & CD / DVD | Control system volume and eject CDs. |
| Audio Devices | Choose standard audio in- and outputs. |
| Default Behaviour | Allows the definition of default actions in case no behaviour is matching the current situation. |
| Files | Browse your entire filesystem, open and launch files. |
| Screen settings | Control resolution, refresh rate, depth, mirroring, main screen and brightness attributes. |
| Shutdown | Shut down the system. |
| Sleep | Puts the system to sleep and allows you to wake it up again with your remote control (the latter depends on whether this feature is implemented in your Mac's firmware). |
| Restart | Shuts down the system and reboots it.. |
Virtual input devices
| Behaviour | Functionality |
| --- | --- |
| Virtual Mouse | Move the mouse pointer horizontally and vertically, press, release and hold the left mouse button, press the right mouse button. This allows you to do virtually anything from dragging items around to opening context menus and making a selection within them. The "Mousespot" feature makes it easy to softly highlight the position of the mousecursor - a perfect fit for presentations! |
| Virtual Keyboard | Emulates a virtual keyboard, with which you can type any texts. The shift, alt, control, caps lock and command keys are fully supported as modifiers. The keyboard is freely scalable and can be used per keyboard and mouse. Support for keyboard sequences: Allows you to emulate sequences of character keystrokes (i.e. to enter commands, passwords). Once entered, you simple select them from a menu and they are typed into whatever application is currently active. Great help in the office, too, if you used to type the same sentences over and over again. |
| Virtual Remote | Emulates an Apple® Remote compatible remote control on your computer. This enables you to control third party software that brings its own support for Apple®'s remote control without having to quit Remote Buddy. The emulation is in fact so complete, that you can even emulate events for the low battery status and pairing. Does also work with computers that didn't come with built-in IR receivers. |