An alternative driver for internal Apple® IR Receivers.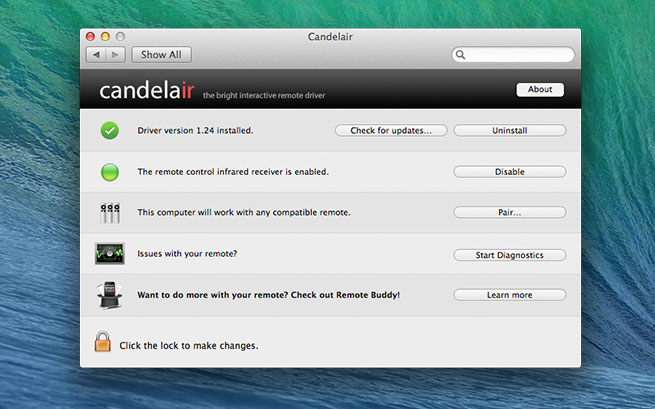 NEWEST FEATURES
Retina support, integrated diagnostics
MORE POWER FOR YOUR REMOTE!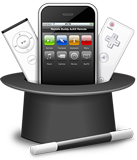 The driver we're making available here is just a small component of our product Remote Buddy.
Discover just how much more possibilities and comfort the complete package has to offer!
More informationů
Features
Global fix for Apple® Remote IR Receiver locking issues - as seen under OS releases 10.6 and 10.6.1
Pairing always available - remotes can be paired regardless of whether an application currently holds an exclusive lock on the IR Receiver
Powerful preference pane - dynamic, context-sensitive interface for installing and uninstalling the Candelair driver, pair remotes and more
Integrated diagnostics - Detects the causes for most issues users have with their Apple® Remote, provides further information on and instructions for solving them.
What is Candelair?
Candelair is an alternative driver for the built-in IR receiver as found in many Mac®s today. It's based on Remote Buddy's driver and comes packaged in a preference pane that presents all remote control options at a glance. Candelair is a free download.
How do I install Candelair?
Go to the download page and follow the instructions available there.
How do I uninstall Candelair?
Go to System Preferences > Candelair and click "Uninstall" to uninstall the driver. When the driver is uninstalled, go to the overview in System Preferences, perform a right click on the "Candelair" icon and select "Remove".
Does Candelair modify my system files?
No. Candelair is a clean, fully-fledged, independent driver. It works without modifying system files, hacking or patching anything.
My Mac® doesn't react to the Apple® Remote - what can cause this?
Due to the very way Candelair works it can't cause such issues. Usually, such issues are caused by helper applications, applications with outdated Apple® Remote support code, wrong remote pairing or IR receiver settings, the lack of an IR receiver, wrong USB information stored in your SMC, etc.
The possible reasons are numerous and often technically very complex. Our Remote Control Diagnostics tool (also available from the Candelair preferences pane) helps you isolate and solve such issues.
I'm a developer. Do I need to change my code?
The driver component of Candelair is designed to achieve full compatibility with code that accesses the IR Receiver via its OS X HID interface. Since almost every application is currently doing this, developers usually won't have to change their code.
We'd still like to highly encourage developers to replace their current Apple® Remote code with our HIDRemote class. The HIDRemote class offers significant advantages over the previously used code - for both users and developers.
Candelair System Requirements
A Mac® with a supported, built-in Apple® IR Receiver, Intel® processor and OS® X 10.4 or higher. Compatible with OS X® 10.9 Mavericks.