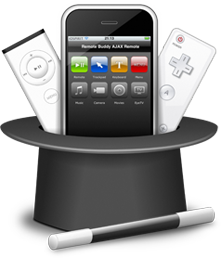 The most powerful remote control solution for the Mac®. Control more than 100 applications, virtual keyboard and mouse, presentations, media center software and important system settings right from your iPhone™, iPod® Touch, your Apple® Remote or one of the many other remote controls supported by Remote Buddy!
Remote controls
Receivers
Technologies
Disclaimer
Although the information on this page has been written and composed with greatest care, we can neither exclude the possibility of errors nor that of technical changes to the products and technologies portrait here. Therefore, use all of the information on this page at your own risk and all information is subject to change without notice.
The provided lists of shopping links make no claim to be complete. All shopping links point to external websites for whose content we assume no liability.
IOSPIRIT GmbH and Remote Buddy are neither affiliated with nor endorsed or sponsored by Apple®, Nintendo®, Keyspan™, Philips®, Sony®, Microsoft®, Twisted Melon™, Logitech®, Griffin or any other, previously named company. More legal informationů