Press Kit
What is Vidimote?
Vidimote is a Safari Extension that provides advanced playback controls for web videos, including speed, jumping +/- 10 seconds, mute, picture-in-picture, fullscreen, AirPlay, smart time information and more.
Vidimote is currently available for Safari on iOS/iPadOS 15. A version for Safari on macOS is in the making.
---
Core Features
Player in a popup: Vidimote's player UI is implemented in the extension's popup, so it can be easily reached and will not interfere with a site's layout.
Direct <video> control: Vidimote is designed to control the <video> element directly, allowing it to offer the same playback controls everywhere - regardless of what a website's own player implements.
Adjust speed in fine increments: supports playback speeds from 0.5x to 2x. To allow users to play videos just at the right speed, Vidimote is not limited to a few fixed multipliers (like 1.25x, 1.5x, etc.), but instead allows to adjust speed with a slider in fine 0.05 increments.
Jump +/- 10 seconds: allows to quickly go back and forward 10 seconds.
Actual time remaining: remaining time takes the video speed into account, so that what is shown is the actual remaining time.
Clock time for livestreams: for live streams, shows the approximate clock time for the current stream position. This makes it easier to find f.ex. the beginning of a show in a live stream that supports time shifting.
Picture-in-picture: puts videos in picture-in-picture.
Fullscreen: triggers fullscreen for videos.
AirPlay: brings up an AirPlay picker for sending the video to an AirPlay target.
Supported websites: successfully tested with the websites of Amazon Prime Video, Dailymotion, MagentaTV, Netflix, Vimeo, YouTube, Facebook, Twitch, Twitter, Skillshare, TED.com, Udemy, Amazon Drive, Dropbox, Microsoft OneDrive, Nextcloud, ownCloud, Arte.tv, BBC.com, CNBC.com, DasErste.de, NBCNews.com, NYTimes.com, Sueddeutsche.de, ZDF.de and many others.
---
Pricing & Availability
Vidimote (iOS/iPadOS) is available for 4.99 US$ from the App Store, localized in English and German.
---
System requirements
Vidimote requires iOS 15 / iPadOS 15 or later. It can only be used in Safari.
---
Media
Download all images iPad / iPhone | Artwork | Logos
iPad / iPhone
Artwork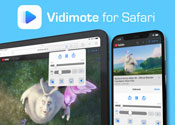 Logos
---
Original Release Date and History
Vidimote was first released on September 20, 2021, alongside iOS 15.
---
About IOSPIRIT
IOSPIRIT GmbH was founded by Felix Schwarz in 2004 and is based in Germany. Indie since 1995, Felix has developed software for various platforms and technology stacks, including Amiga, Windows, Linux, Mac, iPhone, iPad, Apple Watch, Apple TV and the web.
---
Any Questions?
Please don't hesitate to contact us with any question you might have. We're happy to answer them!
---
Sign up for email updates
Receive news, updates and offers regarding our products. Unsubscribe at any time. Please see our privacy policy for more information.
Some material on this page from Big Buck Bunny, (c) copyright 2008, Blender Foundation / www.bigbuckbunny.org.